We have some exciting news… hot off the press… after months of trials, tastings and tweaks we are finally ready to go into production of our Fresh Organic Buffalo Ricotta.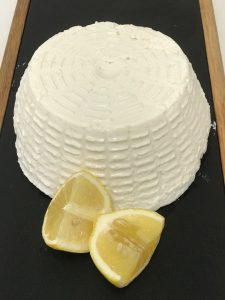 We believe we are the only Organic Buffalo Ricotta producers in the UK.
The first split of the whey, added salt and fresh pasteurised buffalo milk make up our hand recovered ricotta.
Once it reaches optimum temperature, it is ladled out by hand and left to drain and settle before its ready for packaging.
Our organic ricotta is handmade each day by our team of dedicated cheese makers and made fresh to order.
It has a subtle fresh flavour that is light and delicious with a creamy and smooth texture. Perfect for that savoury or sweet recipe.
The ricotta from you guys is amazing, the best ricotta I've tried, like all your products we have had from you guys, you get a wonderful natural dairy flavour freshness and richness coming through.- The Hand and Flowers
We've had the pleasure of experimenting with our developed ricotta.
Tasked with trying out different recipes that enhance it's divine subtle flavour.
We're working on creating the lightest and creamiest fresh ricotta cheesecake..
This white chocolate and ricotta cheesecake with an Amaretti and digestive biscuit base is our favourite so far.