Buffalomi Fries with Chilli Jam
Amelia Ng is a young British Chinese chef that has trained in Michelin starred kitchens around South England. She has grown a foodie following across social media when she was crowned Winner of BBCThree's cooking show Hungry for it. Amelia really likes to play with flavours; fusing different things together to make weird and wacky combos- the kitchen is her playground! Now she is focusing more on recipe development and food styling and we're delighted she's teamed with us to create this awesome Buffalomi recipe for you to try at home.
Serves 2
Ingredients
1x Laverstoke Buffalomi 250g
100g plain flour
1 large egg (whisked)
100g breadcrumbs
Vegetable oil (for frying)
Salt & Pepper to taste
For the chilli jam:
2 red peppers
5 red chilli (roughly chopped)
150g ginger
4/5 cloves of garlic
500g sugar
200ml white vinegar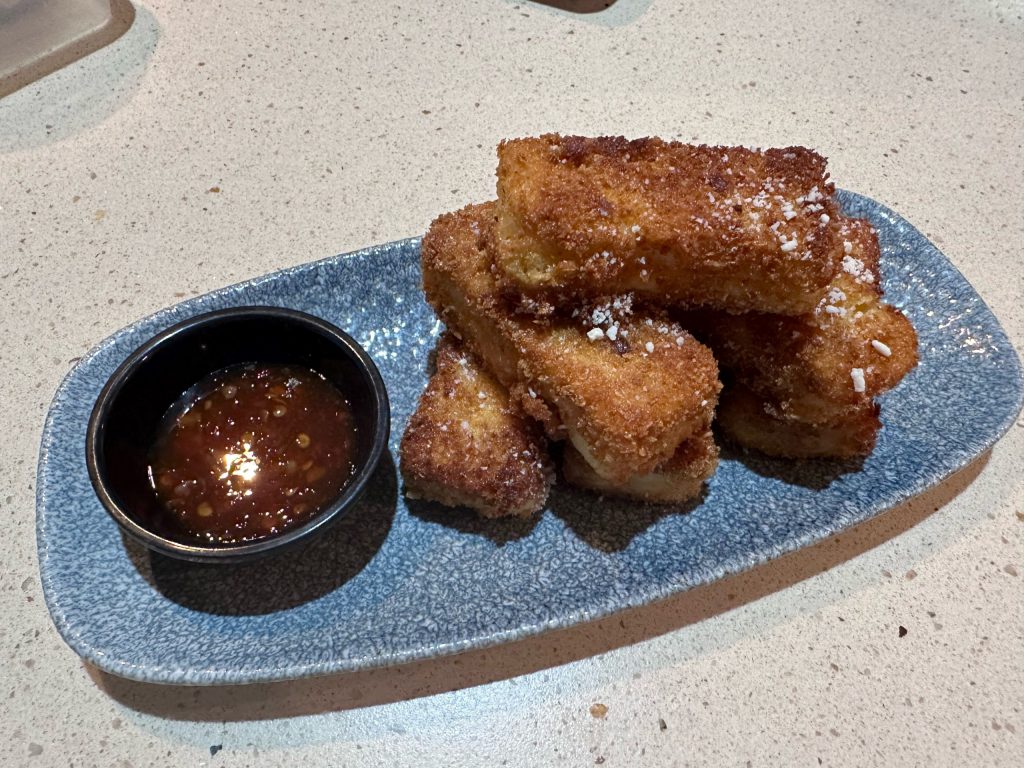 Cooking Instructions
Cut the Buffalomi into 6 pieces or smaller if you prefer
Dip into flour to coat evenly
Dip the floured Buffalomi into whisked egg until covered, shake excess off before covering in breadcrumbs.
To fry: Heat a shallow pan/ deep fryer and add vegetable oil- fry until golden brown all over.
For a healthier alternative, try an air fryer- turning regularly throughout cooking and spritzing with low- calorie cooking spray to achieve a crispy coating.
To make the chilli jam:
Whizz the red peppers and chilli with ginger and garlic in a blender.
Place into a hot pan with oil and cover with the vinegar and sugar, bring to the boil, then turn down to a simmer for 50 minutes. Keep stirring or it may burn!
You want to cook until it has a thick & sticky consistency.
Cool to serve with your chunky Buffalomi fries or reserve in jam jars.
Living in Hampshire & having Laverstoke Park Farm on my doorstep is super lucky; such luxury produce to make super dishes.
I wanted to keep the recipe simple and trendy to show off the Buffalomi in the best form possible.
Starting from tasting it in its raw form, thinking- What flavours would compliment it? What's in season? And then pair it until it's the match made in heaven!